Cameron's aid Patrick Rock who has been fully vetted by MI5 to work in 10 Downing Street has been arrested for offences involving child sexual abuse images.
Cameron's relationship with Mr Rock goes back to the Home Office, where they both worked under Michael Howard in the 1990s.
The same Home Office responsible for keeping a lid on the North Wales child abuse scandal.
Rock, was the key policy "fixer" in Downing Street overseeing the Tories' law and order agenda, he quit his job and was arrested on the same day three weeks ago. This man was telling everyone how to live what was right and wrong. Like the army of pedophiles who run the criminal justice system he is utterly corrupt and contemptible..
Rock repeatedly tried but failed to become an MP despite the backing he recieved.
He worked as special adviser to Cabinet ministers in the Department of the Environment and then the Home Office, where he met David Cameron. He was Cameron's longest serving political friend and no amount of fake "oh I am shocked" from Cameron will fool anybody. Well, to be fair,he might be shocked his protected pedophile friend was arrested.
As Tom Watson MP said it goes right up to No 10 Downing Street
The former Labour minister said: "There is a duty of care to Mr Rock, who has not been charged with anything as of today, yet I do think it is not unreasonable for Downing Street to explain why he resigned hours before the police appear to have acted." So who tipped him off? What evidence did Rock destroy?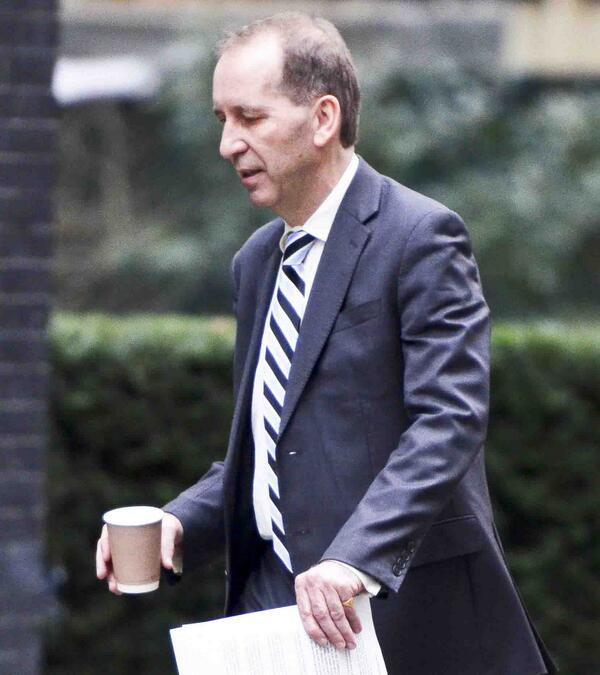 The day after Sonia Poulton wrote in the Express that "
Paedophile MPs are mocking British law
"
we are finally told about the arrest of one 10 Downing Street
pedophile which took place last month.
Sonia wrote
"In October 2012, MP Tom Watson stood up in the Commons and addressed the Prime Minister. He told David Cameron that he had become aware of rumours of paedophile rings which "encircled parliament" and had done so for decades and he then asked for this to be investigated"
Patrick Rock was one of David Cameron's closest aides
The 62-year-old was involved in drawing up policy on child porn and pivotal in decisions on Law and Order. He was arrested at his home and police later searched Downing St.
But he quit after allegations against him were revealed
The unmarried aristocrat was tipped for peerage only weeks ago where he would have joined a long list of elevated paedophiles such as Sir Jimmy Savile, Sir Peter Morrision, Sir Cyril Smith, Sir Leon Brittan, Sir Edward Heath
Rock was the deputy director of the Downing Street policy unit and one of David Cameron's closest aides. Detectives searched No10 and and examined Rock's office computer.
Rock was working on Cameron's high profile deflection ploy

the new Government policy on internet porn filters to stop child porn being published on the internet. He has recently been accused of sexual harassment and was not happy about how his buddies had handled this and thought it might delay his elevation to the peerage.

Rock's influence in Downing Street had ebbed slightly in recent months. Jo Johnson had been brought in over his head to run the Policy Unit.

In fact Rock was thinking of blowing a whistle himself on the correspondence that went over his desk between Sir Jimmy Savile and Margret Thatcher.
Born of aristocratic stock, he went to work as Margaret Thatcher's correspondence secretary after graduating from Oxford University
.
Rock knows a thing or two about high level paedophiles and recently became considered by MI5 to be a security risk.
So what happened as warning to him and others? he was arrested for the child porn that MI5 and the police knew was on his computer, after all they have known he was a paedophile for over 40 years. Will Rock live to go to trial or will they protect him and not bring charges so it can be carefully brushed away.
These evil people who sit in offices of power and make sure that paedophles are protected and whistle-blowers and victims arrested. Now as a watning to others who might think of braking ranks he has been arrested himself. But what these evil men and women should be thinking about is just how expendable they are. Just how much a risk they are to their paedophile masters. How many victims and investigators of child abuse have been suicided. When you are no-longer useful they will sacrifice you without a second thought. People who rape and murder little children or make fortunes from destroying their innocent lives don't care about you!
Read more:
http://www.dailymail.co.uk/news/article-2572495/No-10-aide-arrested-child-porn-Police-quiz-man-advised-Cameron-web-filters.html#ixzz2uxa3tWBN
read more http://www.express.co.uk/comment/expresscomment/462601/Paedophile-MPs-are-mocking-British-law