By Andrea Davison
The Labour Party Executive, who represent a corrupt elite are running scared of an honest Man Jeremy Corbyn MP. They are trawling twitter for Corbyn supporters to eliminate them.
Jeremy has become a people's hero because of his of integrity and shining honesty. This has caused the Political elite,who drape themselves in Blue or Red or Yellow but who work for the same monstrous self indulgent party of 'profit and slavery', to panic. They are hunting Corbyn supporter on twitter and removing them from the Labour Party.

Their latest Victim tweeted today
Viv Chance at 70 years old has been suspended for something she tweeted in 2015. She is not the first. Many twitter users are finding their accounts trawled through by the Labour Stasi in an effort to remove any voters who voted for or support Jeremy Corbyn for Labour Leader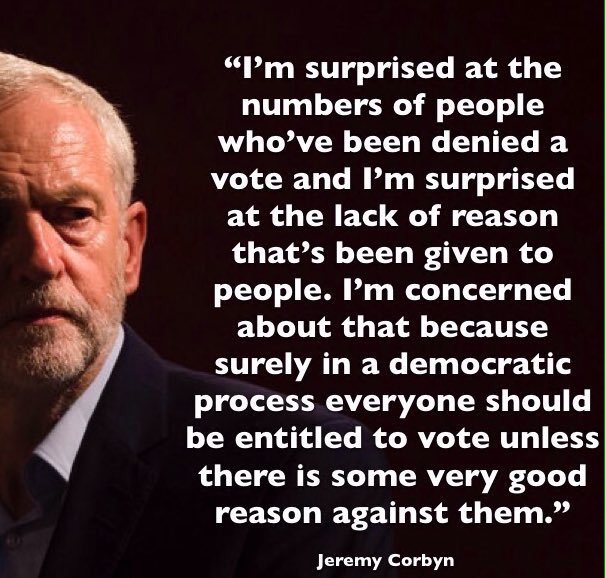 In a shocking case a long term Labour member Adrian Voce writes bitterly on Facebook.
""Yesterday I voted in the Labour leadership contest. Two hours later I received a letter from Iain McNicol, the party's General Secretary, saying 'It has been brought to our attention with supporting evidence that you have publicly shown support for the Conservative party, including on 22 April 2015'.
That threw me. Anyone who knows me, or who has read much of what I've published, will know how unlikely it is.
I trawled by Twitter account and found that on the date in question, 22 April 2015, I had re-tweeted David Cameron's comment about something that Alex Salmond had said, dripping with irony, about his supposed influence on the Labour Party. Salmond's comments were clearly a joke and I challenged Cameron for trying to represent them as a serious point. I've screenshot the tweets below.
I'm assuming this is the alleged offence and find it quite depressing that even this level of petty, blatant gerrymandering, which must cost them a fortune in staff time, is so shockingly incompetent as to not understand the nature of what they were digging up as 'evidence'.
But even if my tweet had been in support of the Tories, I JOINED THE PARTY FIVE MONTHS AFTER THAT DATE. Does Labour not want to attract people from other parties? I think they need to look again at the Math. Quentin Davies, who defected from the Tories to Labour as an MP, was made a life peer for his troubles. I'm more likely to have once supported Man United than I am to have ever supported the Tories (I'm Liverpool: it's a tribal thing), and I've been thrown out on my ear.
Anyway, the letter goes on (and on): '... the Labour Party's rules state: 'A member of the party who joins and/or supports a political organisation other than Labour … shall automatically be ineligible to be or remain a party member… You are therefore ineligible to remain a member of the Labour Party. If you have received a ballot and cast a vote, it will not be counted.
'Under … party rules you may apply for re-admission but this must be made directly to the National Executive Committee … Such applications shall not normally be considered by the NEC until a minimum of five years has elapsed...'
My Granddad was a shop steward at Camell Laird the shipbuilders. My Mum was named after Ramsey MacDonald's daughter. My Dad was a social worker and a lifelong socialist. I've voted Labour all my life. Shit, they even gave me a gong for some work that I did with them when they were last in government."
Whatever you do! the people will not get back to their oars in shackles and row your boat to profit by their slavery. We are not your slaves and Corbyn will win despite your undemocratic, Stasi tactics. Stop hunting Corbyn supporter of twitter or we may start hunting you.
If you are being persecuted becase of your support for Jeremy Corbyn let him know
@
jeremycorbyn
You can also appeal against your expulsion from the labour party
https://seagullnic.wordpress.com/2016/09/13/appeal-against-my-expulsion-from-the-labour-party-an-open-letter/