Thanks to
@AngrybriTony
for the cartoon.
Thanks to Cathy Fox
Colin Tucker talking to the BBC about
his role as Butler to Fifi
(5 mins audio), including how he helps shopping and dressing.
Her butler or as it is known in the City Of London, her Steward, is Arthur Colin Tucker.
Arthur Colin Tucker was a lawyer caught up in the Magic Circle Sex Abuse Scandal in Scotland in the late 80s and early 90s. There was a bit of a trial, allegations of blackmail, this that and the other. Anyway the establishment were in a right mess and he got off.
After coming through this, he struck lucky again and he got a job as a butler (not to be confused with Butler-Sloss) at the Mansion House, which is Fi Fi Woolfies current grace and favour pad, which every ordinary citizen has.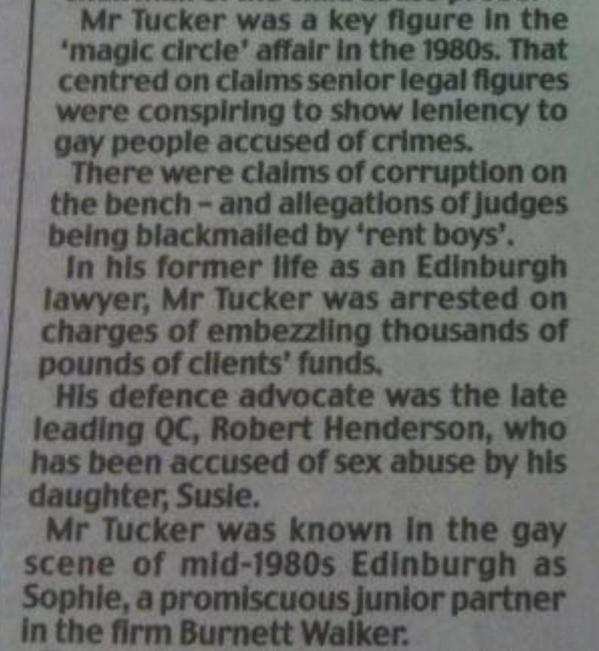 BBC London Lord Mayor's Steward Colin Tucker tells @annareporting what the butler saw.. -
https://audioboom.com/boos/1716856-lord-mayor-s-steward-colin-tucker-tells-annareporting-what-the-butler-saw
By Ian Pace
I
n the letter from the Lord Mayor of London, Fiona Woolf, to the Home Secretary, Theresa May, dated October 11th 2014 and published on the website of the
Independent Panel Inquiry into Child Sexual Abuse
on October 20th, as well as the details of connections to Lord and Lady Brittan, the CityUK organisation, Labour deputy leader Harriet Harman, former Legal Officer NCCL, and Harman's successor Marie Staunton (who openly defended the organisation's affiliation to the Paedophile Information Exchange (
Leo McKinstry, 'The Left's web of shame: It's not just Harman, Dromey and Hewitt. As we reveal, many other members of Britain's ruling liberal elite held senior posts at the NCCL when it was closely linked to paedophiles', Daily Mail, March 1st, 2014
), the Guildhall School of Music and Drama (
the trial of a former teacher at which will take place in early 2015
), and the City of London School for Girls (whose former trumpet teacher Helen Goddard was jailed in 2009 for abusing an underage girl,
as detailed within this long post
), there was a hitherto little commented-upon passage concerning an employee at Mansion House:
I believe it is appropriate to bring to your attention the report of an inquiry conducted in Scotland in 1993 relating to an allegation to pervert the course of justice. A current staff member at Mansion House, an employee of the Corporation, was referred to in that inquiry; the individual concerned was not in the employment of the Corporation during the time period mentioned in the report. Full details of the inquiry and its conclusions (at pages 106-107) are contained in the attached link to the full report (https://www.gov.uk/government/uploads/system/uploads/attachment_data/file/228813/0377.pdf). I can confirm that I have never discussed this issue with the individual and was unaware of the individual's prior history until the matter was recently brought to my attention.
The individual in question is Anthony Colin Tucker, a former solicitor who has been
steward to the Lord Mayor
since the early 1990s. The report in question is W.A. Nimmo Smith QC and J.D. Friel, Regional Procurator Fiscal of North Strathclyde,
The Report on an Inquiry into an Allegation of a Conspiracy to Pervert the Course of Justice in Scotland
, Return to an Address of the Honourable the House of Commons dated 26th January 1993.
In this audio interview
, Tucker speaks about his work for the Lord Mayor in what is essentially a butler-like role, suggesting something rather closer than Woolf's term 'current staff member at Mansion House' would imply.
The report refers to the now mostly forgotten almost 25-year old saga involving an alleged 'Magic Circle' within the Scottish legal establishment, in which gay judges were alleged to have given more lenient sentences to gay criminals because of fear of blackmail. Tucker's own trial on charges of embezzlement, for which he was acquitted, was central to this affair; the trial came about after Tucker's senior partner, Ian Walker, killed himself. One journalist, Graham Grant, Home Affairs Editor for the Scottish Daily Mail, reported on this connection this Saturday (October 25th, 2014), in this article below.
As mentioned by Grant, of central importance is the role of Tucker's defence counsel, the late Robert Henderson QC. Henderson has been in the news again since his daughter Susie has claimed that she was abused by both him and the late former Scottish Solicitor General Sir Nicholas Fairbairn (
Emma Cowing and Graham Grant, 'I was raped aged 4 by top aide to Thatcher: Woman claims she was abused by senior Conservative MP who visited notorious guest house with paedophile Cyril Smith', Daily Mail, August 14th, 2014
), who has also been alleged to have been a visitor to the notorious
Elm Guest House
in Barnes, a key location for VIP guests to abuse young boys, said to have been delivered from care homes (
'Sir Nicholas Fairbairn in child abuse scandal link', The Scotsman, July 13th, 2014
). This has led to a renewed interest in the 'magic circle' allegations (see for example
Jonathan Brocklebank, 'A magic circle of judges, a sex abuse probe and the sinister truth about the Fettesgate scandal', Daily Mail, August 14th, 2014
), though until Grant no-one had made the connection with someone close to the Lord Mayor of London.
Tucker is also listed as a partner in a company entitled 'LD Inns', address 24 Howe Street, Edinburgh EH3 6TG, from March 9th 1988 to July 17th, 1989, together with a Burnett Walker and David Ben Aryeah
. It turns out this was the notorious Laughing Duck gay bar (see
Rory Knight Bruce, 'Below the Law: It is a short walk from Edinburgh's Court of Session to the Laughing Duck', Spectator, January 27th, 1990
), mentioned at various points in the 1993 report, and listed with a three star rating in
the 1982 edition of Spartacus International Gay Guide for Gay Men
; membership of
Spartacus
, which was run by Roman Catholic priest John Stamford, who was later convicted of sending pornographic material through the post, also notoriously gave discounts for stays at Elm Guest House, and championed PIE; Stamford also published
PAN: A Magazine about Boy-Love
(
David Hencke and David Pallister, 'Elm guest house scandal: Coded advert that gave signals to perverts',

Daily Mirror

,

February 2nd, 2013
).
Tucker was also for seven years an elder at St Cuthbert's, next to Edinburgh Castle (
Bruce McKain, 'Solicitor tells fraud trial his partner had hold over him', Glasgow Herald, December 16th, 1989
). Burnett Walker was also
a director of a delicatessen, Victors of Edinburgh
; Edinburgh-born David Ben-Aryeah worked for the Israeli military, as a travel agent, and was one of the first journalists to report on the Lockerbie disaster (
'Remembering Lockerbie 20 years on', The Scotsman, December 18th, 2008
; see also
his commentary here
; he also
wrote a tour guide for Soviet musicians in Edinburgh in a 1987 issue of New Times International
)