Theresa May scores a triple whammy by appointing establishment lackey with history of cover-ups,Judge Lowell Goddard QC, to head CSA Inquiry. Michael Mansfield QC wanted by survivors was not even considered.
Goddard's first husband, is a member of the house of Lords Sir
John Scott, 5th Baronet of Beauclerc and he worked for the BBC CSA inquiry must investigate both the House of Lords and the BBC. She was awarded an honor by the queen and is a Dame. She is a died in the wool establishment cover-up merchant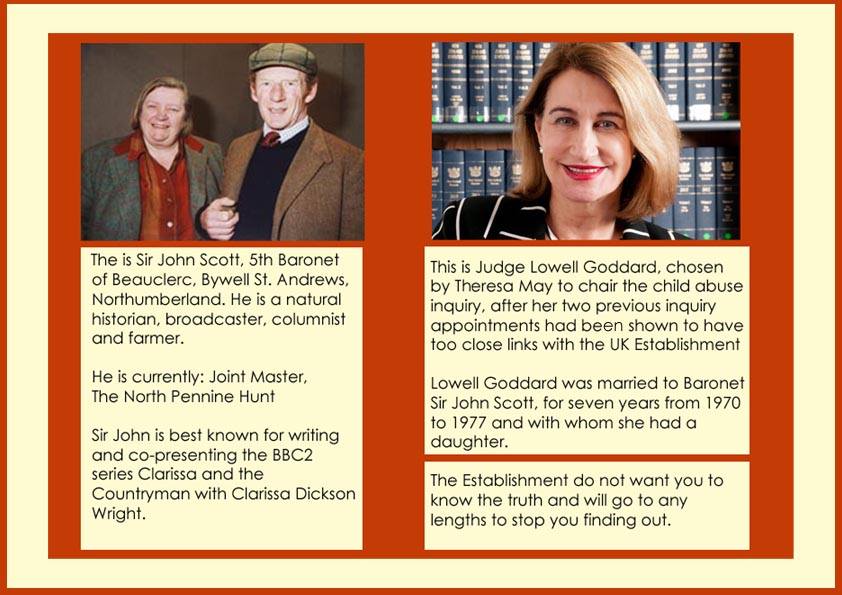 GODDARD, Lowell Patria
High Court Justice Lowell Goddard
Professional Data:

2014 Judge Survey Score (1-10):

6.5

Ranking (out of 60): 62nd
Postion & Titles:
QC, Former Deputy Solicitor General
Judge of:
High Court, Wellington, since 1995
Specializations and Professional Interests:
Was the judge entrusted with making recommendations on behalf
of Independent Police Complaints Authority investigations to the
Commissioner of Police until she returned to the High Court bench in 2012
Professional Comments:
Justice Goddard is past Chair of theIndependent Police Conduct Authorityand now sits in the Wellington High Court. Officially, she has overseen significant change, as the Authority publicly portrayed itself as a transparent investigative and reviewing agency of serious complaints against the Police. The reality is different. Justice Goddard held up and covered up a number of serious complaints. Perhaps this is not surprising given her history.When deputy Solicitor General, Lowell Goddard refused to release evidence that former judge Michael Lance was guilty of throwing a police prosecution of his son Simon's business partner, claiming it was not in the public interest to do so. The police inspector at the time sought release of the file. Judge Lance later became Goddard's deputy judge at the IPCA – demonstrating a level of audacity even rare by New Zealand standards. Lance retired in disgrace shortly afterward when it was reported he was keying cars parked in front of his Takapuna apartment. (Lance was prosecuted in a judge alone trial and let off.)


The IPCA became even a more opaque agency under Justice Goddard, with legal exemptions of disclosure to theOfficial Information Act and Privacy Act. Much of its work is cloaked by tight secrecy.

Justice Goddard is believed to be the first Maori woman to have served as a High Court Judge. She has also sat as a member of the Criminal Division of the Court of Appeal.

As a lawyer, Justice Goddard defended and prosecuted in a number of homicide and other serious criminal trials, and acted as counsel assisting tribunals and Commissions of Inquiry, including the Cartwright inquiry into allegations concerning the treatment of cervical cancer at National Women's Hospital in New Zealand

In 2009, Justice Goddard gave a speech to the Australian Public Sector Anti-Corruption Conference. An abstract of her speech is provided immediately below this profile.

Lawyers who appear before her generally have little regard for her as a judge willing to conform to law or rule consistent with relevant facts. They are far more impressed with her impeccable dress and makeup.

Background / Education:
Graduated LLB from the University of Auckland in 1974 and was admitted to the Bar in 1975. She commenced practice primarily as a defence barrister and later as a Crown prosecutor.In 1988, she was appointed Queen's Counsel and in 1989 became Deputy Solicitor-General for New Zealand. In that role she discharged the functions of Director of Public Prosecutions at a national level.
Degrees:
LLB, Auckland, 1974
Admitted to the Bar:
1975
Company Involvements:

Personal Data

Born:
25/11/48
Auckland, New Zealand
Sex:
Female
Married:
1992 (2nd)
Christopher John Hodson QC. He has 3 children Andrew James Hodson b.1967 Daniel Paul Hodson b.1969 Victoria Rachel B.1971
Children:
1 (1st Marriage produced 1 child Rebecca Scott b1970 )
Interesting Relationships and Coincidences:
In 2009, Justice Goddard's former deputy (Judge Michael Lance) was criminally charged with willful vandalism in relation to "keying" of a man's car in front of his residence. Fifteen years earlier – as Deputy Solicitor General – Lowell Goddard covered up misconduct by Judge Lance in a criminal trial he presided over where his son's law associate was charged with extortion (and Lance acquitted the man and ordered permanent name suppression).
Miscellaneous:
ABSTRACT OF JUSTICE LOWELL GODDARD'S SPEECH TO THE AUSTRALIAN PUBLIC SECTOR ANTI-CORRUPTION CONFERENCE IN JULY 2009
In 1998, the New Zealand Government established a permanent independent body, known as the Police Complaints Authority. This was largely in response to public criticism over Police handling of complaints about alleged brutality to citizens during demonstrations opposing the 1981 Springbok tour of New Zealand. The New Zealand Police Complaints Authority was created by statute and from the outset was headed by a Judge. Its role was to better provide for the investigation and resolution of complaints against Police and to make recommendations where necessary, including that consideration be given by the Commissioner of Police to the institution of disciplinary or criminal proceedings against any member of Police.
Since its inception the Authority has undergone a metamorphosis, from a purely reviewing oversight role to a more robust and independent investigative model. To achieve this objective it has undertaken an internal restructuring and its work approach has been reformed. Its focus is now increasingly on independently investigating the most serious incidents and allegations about Police and it deploys its own investigation teams for that purpose. In addition, it has received enhanced legislative powers and has been renamed the Independent Police Conduct Authority. Further investigative powers and prosecutorial powers are in draft legislation.
This altered focus, away from merely reviewing Police investigations into complaints, towards actively investigating, was in response to public dissatisfaction over the apparent ineffectiveness and lack of transparency of the Authority's work, brought to a head by its inability to enquire into serious historical police misconduct that came to public attention around 2000.
The Authority currently has a number of high profile investigations underway and is increasingly reporting publicly on its findings and recommendations. It has received support from the New Zealand Government in the form of increased resourcing and there is increasing public confidence in the robustness and openness of its work.
An important and exciting new dimension to the Authority's work is the contribution it has recently made to help build international capacity in independent oversight of policing. This contribution recognises the importance of assisting in an understanding of integrity in policing to ensure that human rights are protected, particularly in developing nations and in situations where civilian police forces can become an instrument of political oppression.
----------------------------------------------------
An exchange took place in Parliment which mentioned the above details about Goddard it is produced below.
Mrs. May's statement to the House of Commons made no mention of any concern regarding Justice Goddard's conduct.
Following Mrs. May's seemingly impressive statement to the House of Commons, the following exchange took place between Sir Paul Beresford, a Conservative MP, and Mrs. May:
Sir Paul Beresford (Mole Valley) (Con):
Mr Speaker will not be surprised to hear that my position as an ethnic minority immigrant from New Zealand adds to my support for the statement. One thing that I have noticed in New Zealand is that it suffers from "tall poppy syndrome". That came through at the last election in New Zealand, when very unpleasant, anonymous accusations were made. I suspect that someone with the standing and career of Justice Goddard will have been the subject of such false and probably anonymous accusations. If my right hon. Friend is aware of any such accusations, can she kill them dead now?
Mrs May: I thank my hon. Friend for his support for the appointment of a New Zealand judge. It became apparent during the due diligence process that there is a blog with an accusation against Justice Lowell Goddard relating to a potential cover-up. I have spoken to her and to New Zealand's Attorney-General about it, and I have been assured that there is absolutely no truth to the allegation. That information was shared with a number of survivors and they were comfortable with the explanation that was given. I am clear not only that Justice Goddard has the necessary experience in this area, but, crucially, that her track record shows—for example, in the work that she did to look at police conduct in these matters—that she is willing to go where the evidence takes her, without fear or favour.
Initially apart there are tree areas of concern.




1)that Justice Goddard covered-up seemingly criminal misconduct by a fellow judge, Michael Lance. It is that allegation which I take the Home Secretary to refer to in her answer to Sir Paul Beresford's question.

2) a judicial decision by Justice Goddard which confirmed that the identity of a convicted paedophile should remain secret.

3) Goddard's first husband, is a member of the house of Lords Sir John Scott, 5th Baronet of Beauclerc and he worked for the BBC CSA inquiry must investigate both the House of Lords and the BBC. She was awarded an honor by the queen and is a Dame. She is a died in the wool establishment cover-up merchant

With regard to the allegation that Justice Goddard covered-up seemingly criminal misconduct by a fellow judge it seems to me that a denial by Justice Goddard is a wholly insufficient technique of "due diligence" by Mrs. May.

Something much more rigorous is required including a full statement of the (alleged) facts so that UK survivors and the UK Public may take an informed view on whether there is sufficient basis to trust Justice Goddard to chair the UK Child Abuse Inquiry.

There is an opportunity next week for the Home Affairs Select Committee to inquire diligently into the background to the allegations regarding Justice Goddard's conduct in relation to Michael Lance.

Without a full and credible explanation it seems to me that Justice Goddard has no credibility to act as Chair to an inquiry which will explore potential criminal misconduct by members of the UK Legal Establishment.

The second issue will, I suspect, prove fatal to Justice Goddard's role as Chair of the Inquiry.

The allegation is that Justice Goddard, in her judicial capacity, confirmed a ruling that the identity of a convicted paedophile be kept secret.

It seems to me that the inevitable effect of the alleged ruling is that, presumably somewhere in New Zealand, a convicted paeophile is free to function in society as if he (I assume it is a male) were an honest member of society.

In other words it seems to me that by concealing the identity of a convicted paedophile Judge Goddard's ruling is potentially putting at risk young people.

If, as is alleged, Justice Goddard has, in effect, covered-up for one convicted paedophile then I can see no rational basis for the UK Public having faith in Justice Goddard as Chair of the Child Abuse Inquiry.

I expect Justice Goddard to have to resign.