Scallywag Article about Dolphin Square in Pimlico a hop skip and a jump to where Gareth Williams (Gay spy in a bag) was murdered
We took them separately to Pimlico and asked them to point out the building where this had taken place. They were both positive in their identification. It turned out to be the private flat of a well known, and since highly discredited lobbyist who later went into obscurity in some disgrace because of his involvement with Mohammed al-Fayed and the 'cash for questions' scandal. At the time we ran a story entitled 'Boys for Questions' and named several prominent members of the then Thatcher government. These allegations went to the very top of the Tory party, yet there was a curious and almost ominous lack of writs.
The lobbyist was a notorious 'queen' who specialised in gay parties with a 'political mix' in the Pimlico area – most convenient to the Commons – and which included selected flats in Dolphin Square. The two young men were able to give us very graphic descriptions of just what went on, including acts of buggery, and alleged that they were only two of many from children's homes other than North Wales.
There was, to my certain knowledge, at least one resignation from the Conservative office in Smith Square once we had published our evidence and named names. Simon Reagan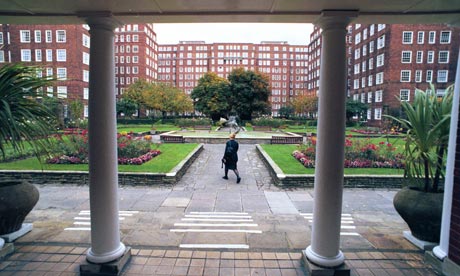 DOLPHIN SQUARE PIMLICO
SCALLYWAG ARTICLE circa 1994
Dolphin Square is not particularly exclusive - in the same way as, say, the Albany is. In fact much of it is rather tatty and gaunt. It is formidably large, somewhere between a village and a city with its own shops, sporting facilities, bars and restaurants. Any exclusivity it does enjoy is merely because you have to be "someone" to get in and that "someone" has to be au fais with the resident's Committee, which is dominated and was clearly motivated by the right wing element of its landlord's - Westminster City Council. There are some fifty MP's in the set of buildings (about one in seven of all members). They include some token non-Tories, like left-winger Tom Pendry, and former Liberal leader Sir David Steel.
But most of the inmates are well behaved Conservative back benchers who need a cheap London pad.
Its other great advantage is its anonymity. As long as you don't upset other residents, people tend to let you get on with your life. There is also a very well run security system and service arrangements which guarantees this privacy. If you do dine there, as Portillo, Lilly and co. do quite often, you tend to find yourself in the "right company". The staff are the height of discretion.
It creates the perfect setting for private parties and tete a' tetes
and "model" agencies providing both young men and women are a thriving industry in Pimlico. In fact, the local rent-a-boy agencies provide an almost service industry to the complex.
Our "spy" in the building is a close observer of life behind the grey-white walls and tells us gay parties and "romps" go on most nights and he has got quite used to young gays wandering around looking for the next rave.
The political importance of Dolphin Square to the Tories on Westminster council is significant. The complex created the perfect role model to ensure a Tory balance in the wards. Dame Porter's stated goal was to move out unemployed, homeless, and obvious labour supporters from the marginals, and move in known Tories in what they called the Dolphin Factor - a large enclave of Tory votes carefully nurtured and looked after right in the centre of the ward.
Julian Lewis operates as "JRJ Lewis" in one of the more opulent pads at 110 Nelson house.
---
The Westminster Connection
It is no mere coincidence that the main stages of this sordid drama fortuitously embrace not just the Houses of Parliament and Smith Square, but Dolphin Square and Westminster City Council who administer it and make very sure that there is a wide selection of their own friends and sympathisers in the building. If you are hunting for dirty tricks and gerrymandering it can all be found in less than a square mile of sordid intrigue and nasty conspiracies in the very heart of London.
Dolphin Square - the largest block of flats in Europe, and itself a hot-bed of political machinations - is in the safe Tory enclave of Pimlico, nick-named by politico wags as
Pimp-lico for it is here that the
rent-a-boy lobby have their headquarters.
While the City Council's invidious supporter Julian Lewis operates his business from "JRJ Lewis" at 110 Nelson House in Dolphin Square - a stone's throw from his CCO office - none other than our old friend Derek Laud operates his from a private house just round the corner in Winchester Street.
It was Laud, known as "Golly" who went on holiday with his boyfriend with the Portillos and Lillies. He is a fore runner and front man for Ludgate Communications, which overtly runs a gay lobby group providing evening soirees for like minded politicos. These are almost exclusively both gay and right wing Tories.
In another block at Dolphin Square is another old friend, Robert Atkins ( 4 Collingswood House), who played the most central role in the right-wing dirty tricks operation against Owen Oyston.
It is now accepted, at least by every fair-minded person of any hue that the council house for voters scandal, complete with slush funds, behind door conspiracies, acute nepotism from the top, and the active participation of the CCO, was one of the worst of its kind on modern politics.
We have now read the full transcripts of the Margill report, in which the District Auditor, John Margill of Touche Ross, carefully. witness by witness, delved for the truth of the matter. It was clear to him, and deeply reflected in is report, that Lady Porter and her cronies and lackeys, led by two mysterious advisors on her personal payroll, had identified ten marginal wards and actively set about turning them blue.
At a cost of £100,000 they bought up the services of five Tory activists to find out the political colour of every person in these wards. Houses which came empty were let in these wards only to known Tory sympathisers. Unemployed and homeless were shuffled off to the safe Labour seats.
So desperate were they to place labourites in the right ward that they allowed the homeless to inhabit two enormous tower blocks which had been condemned by their own health department for having toxic levels of asbestos poisoning. A full report confirming this is due in the autumn.
The significant thing about this is how many of the names turn up in this scandal who also are apparent in the Gay lobby scandal and the Dirty Tricks department run by Julian Lewis.
WHO LIVES IN DOLPHIN SQUARE:- the infamous Christine Keeler, a Soviet Spy and William Hague and M15
Many judges, senior civil servants, and MPs living at favourable market rates.
Notable residents have included: comedians
Ben Lyon
and
Bud Flanagan
; actor
Peter Finch
; politician
Harold Wilson
; writer
Radclyffe Hall
; former
Lord Chief Justice
Lord Goddard
;
Christine Keeler
; journalist Norman Cliff;
Anne, the Princess Royal
; politician
William Hague
.
John Vassall
, the Soviet spy, was arrested at his Dolphin Square apartment in 1962.
It provided a base for the Free French during World War II and number 308 Hood House was used by
MI5
section B5(b) responsible for infiltrating agents into potentially subversive groups from 1924 to 1946.
WHAT CAN YOU DO IN DOLPHIN SQUARE WITH ITS SUBSIDISED RENTS?
The estate contains a swimming pool, bar, brasserie (all of which were renovated in 2008), gymnasium, and shopping arcade. In the basement are a launderette and car park. A tennis court and croquet lawn overlook the River Thames. However sexually abused children were not allowed to use the recreational facilites.
---