Every day we hear more and more stories of horrific brutality by British police against the most vulnerable in Society, children, old ladies and now heavily pregnant women.
Nottingham. Police officers have received a slap on the hand for sexually assaulting, punching and brutalising an 7 months pregnant 42 year old mother of 7.

The Crown Prosecution Service and senior Police in Nottingham have not thought to prosecute the Police Officers for brutality against this vulnerable woman and her unborn child.
These evil men who masquerade as officers of the law should receive long sentences for their crimes. What does it say about a Government and the Criminal Justice System when men who abuse and brutalise a heavily pregnant woman go unpunished simply because they belong to a discredited police force. This is not a matter to be dealt with by internal Police disciplinary action, the CPS must prosecute these evil men.
Nottingham and Derby Police come up time and time again in complaints but the chief constables of these corrupt forces remain in place.
Nottingham Police are the same force who prosecuted the Ratclife Power Station Activists using Mark Stone /Kennedy uncover cop to set them up and hired Prosecution Barrister Felicity Gerry to lie to the Court.
This abuse of power and the theft of and use by the Police of dead babies passports is being investigated by Mick Creedon Derby Chief Constable. The same Chief Constable who set-up child abuse whistle-blower Andrea Davison, using the same prosecution barrister Felicity Gerry. Has anyone noticed that Derby and Nottingham are next door?
Three police officers charged over pregnant suspect's ordeal in prison cell
Misconduct charges follow IPCC investigation of woman's complaint that she was stripped and handcuffed for 11 hours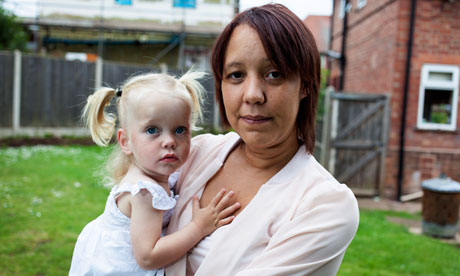 A
police
inspector and two sergeants are facing gross misconduct charges following a complaint from a pregnant woman that she was handcuffed for 11 hours in a police cell, stripped naked from the waist up and assaulted.
Lynette Wallace, 42, went into labour 10 weeks early following the incident and was rushed into hospital for an emergency caesarean. She says her child is now suffering from developmental delays.
The misconduct charges against three officers in Nottinghamshire follow an
Independent Police Complaints Commission
(IPCC) report into the case. Wallace believes that the early onset of labour was a result of her treatment in custody, though this issue did not form part of the investigation.
The report did not recommend referring the investigation to the Crown Prosecution Service for possible criminal charges, but the IPCC has told the Guardian it is now reconsidering this decision.
Wallace, a mother of seven from Nottingham, was arrested at her home on 7 July 2011, accused of arson with intent to endanger life and intimidating a witness. The charges were later dropped.
At the city's Bridewell police station she was asked if she self-harmed; she said she had in the past but not for a long time. An officer told her she had to remove her trousers or she would cut them off with a knife. Wallace agreed to this and was taken to a cell.
It is understood the investigators found that an officer then decided she might have been in imminent danger of strangling herself, so a decision was made to remove all her upper clothing.
After this three officers rushed into her cell, forced her face down on to the bed, ripped off her T-shirt, cut her bra off with a knife, handcuffed her hands behind her back and left her.
It was only when a custody nurse found her naked from the waist up that a T-shirt was put over her.
Wallace was left handcuffed for 11 hours and then interviewed. When police wanted to handcuff her again she refused as she says she was in considerable pain. It is understood she was then punched repeatedly in the arm to force her to comply.
"The whole thing was a nightmare," said Wallace. "I wasn't expecting a police officer to come at me with a knife … to have a bunch of male police rush into my cell, restrain me and rip my clothes off was very traumatic. My arm went black from shoulder to elbow from where they punched me." She said she was particularly anxious about having been forced to abandon her children. The youngest was left with a neighbour and she kept asking who would pick up the older children from school.
"The whole thing was extremely stressful.I felt that something was wrong with the baby and began having Braxton Hicks contractions," Wallace said. "I asked a doctor to examine me but instead was given paracetamol."
Wallace had been having a biopsy for suspected breast cancer at the time she was accused of intimidating a witness. Cancer was confirmed, but her treatment was delayed because of her time in custody.
She said: "After two days I was transferred from the police cell to HMP Peterborough and from there was rushed into hospital for an emergency caesarean. The worst part of the whole incident was only being allowed to see the baby who was very unwell for an hour three times a week. At one point she was put on a ventilator. I thought she might die but I couldn't stay with her because I was taken back to prison. She is almost two now but has got developmental delays which I believe could be caused by what happened to me in the police cell. "
An inspector and the two sergeants are facing a gross misconduct hearing next month relating to the protracted handcuffing while in detention and in one sergeant's case of failing to provide adequate information to allow effective childcare.
Carolynn Gallwey of Bhatt Murphy solicitors, who is Wallace's lawyer, said: "What is most shocking about this case is that it was a number of officers, across shifts and including supervising officers, who either actively took part in or didn't care enough to stop the humiliation, assault and abuse of a heavily pregnant woman."
An IPCC spokesman said: "At the conclusion of the investigation, the IPCC recommended a number of officers face disciplinary proceedings and that three police officers have a case to answer for gross misconduct. "The IPCC is reconsidering an earlier decision not to refer its final investigation report to the CPS and will be discussing this with relevant parties."
A Nottinghamshire police spokesperson said: "In March 2013 the force received the report and findings of the IPCC and is currently acting upon its recommendations, which include that a number of officers should face charges of gross misconduct and misconduct."