Headlining in Newspapers today we learn about the British States duplicity, shocking disinformation and callous disregard for children's safety. The British State with the collusion of Prime Ministers used its Security organ MI5 to protect the Westminster paedophile Ring and the evil men who raped and murdered working class children and covered each other backs. Lets not forget all these VIP's also profited financially from the lucrative trade in images of children being raped and murdered.
The Mirror
writes that
MI5 'helped Margaret Thatcher cover-up paedophile Tory MP's activities' new documents reveal
The Guardian writes
"Leon Brittan among senior Westminster figures named in new child abuse files Peter Morrison, Peter Hayman and William van Straubenzee also named in previously unreleased documents
Britten's Cousin former
Tory minister Malcome Rifkind
was still head of the committee which overseas the security and intelligence services in Feb this year. You could not make it up!
The cat is truely out of the bag and the pigeon has flown. These evil men are taking the proverbial. They all know and not one of then gave a thought to the raped and murdered working class children.
One big QUESTION is how did all these utterly corrupt people get to the top positions of power in the UK? Why are they still protected and why is no-one investigating their finance for the proceeds of crime?
All these men, part of Margaret Thatchers and Cameron's Governments, knew Leon Brittan was part of a VIP pedophile ring and they helped to cover-up the rape and murder of children in Britain.
Two of these men Howard and Clarke were Home Secretaries. William Hague was foreign Secretary and Welsh Secretary. In Wales he covered up for the Westminster paedophile ring. Allowing children to be trafficked from Welsh children's homes to be sold as sex slaves to politicians in Dolphin Square and other venues. Mellor former Minister and Barrister.
The legal profession and Members of Parliament feature highly as the most prolific paedophiles and child murderers. All protected by their professions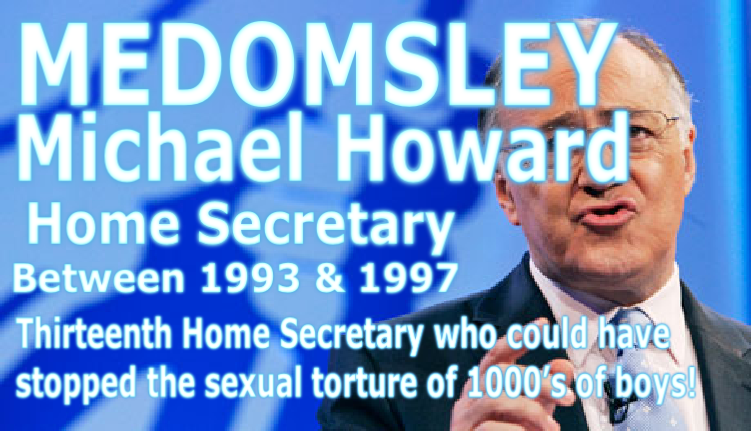 @

perryscope21
Special branch were
Leon Brittan
's personal thugs. He was not interested in protecting kids just covering his back and pals
Cover-up after cover-up, protection of VIP pedophiles, jailing of CSA whistleblowers and survivors. Its time STOP full stop this social corruption. Jail the Pedophiles not the survivors. There are evil pedophiles sitting in parliament today- they are not dead. Arrest them NOW. It is also time to PROSECUTE the COVER-UP MERCHANTS
All in it together cross party pedophiles and cover-up merchants Tory Labour and Liberals
Darren ,not his real name, has finally been vindicated he told the truth about VIP pedophile Leon Brittan and being trafficked from North Wales to Dolphin Square.
http://www.dailymail.co.uk/news/article-3167647/Brittan-regular-paedophile-parties-Former-Home-Secretary-named-abuser-alleged-victim-Australian-TV-appearance.html#ixzz3gT8Wenqt
Rifkind forced to resign over corruption (no charges though)
http://www.bbc.com/news/uk-politics-31603202
http://www.theguardian.com/politics/2015/jul/22/leon-brittan-westminster-child-abuse-files
https://www.gov.uk/government/uploads/system/uploads/attachment_data/file/447564/Peter_Wanless_-_Richard_Whittam_supplementary.pdf